---
Launched & Funded on Kickstarter: Magical Kitties Save the Day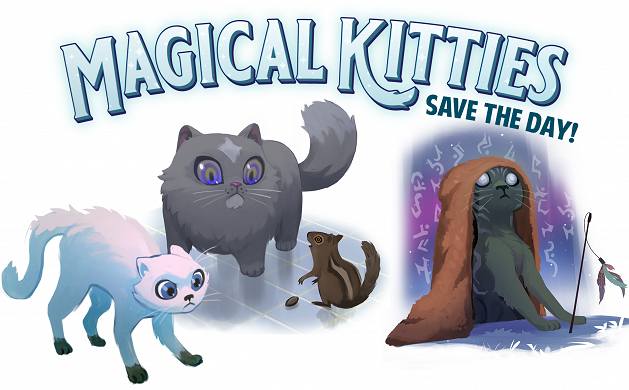 We launched Magical Kitties Save the Day, our all-ages roleplaying game, on Kickstarter three days ago. Since then, we have been blown away by the enthusiasm and support for our project. We surpassed our funding goal in the first three hours, and since then, have been breezing through our stretch goals.
From the bottom of our hearts, thank you. It has been thrilling and humbling to see this project take off, and we can't wait to get it into production!
With that said, the campaign isn't over yet, and your pledge still matters. There are many stretch goals in the pipeline, including ones that unlock supplements for the core game, component upgrades, and poster maps. If you can't back the project right now, but would still like maximize its awesomeness for when you buy it from your local gaming store later, you can still help reach social stretch goals by sharing the project or following Atlas Games on social media.
More About Magical Kitties
In Magical Kitties, everybody plays a kitty with a unique supernatural power. Every kitty has human. (Some humans believe that they own the kitties, but that's clearly ridiculous.) Every human has a Problem. The kitties need to use their powers to solve their humans' problems and save the day! On top of that, every hometown has Troubles. Troubles can be almost anything: Witches. Aliens. Hyper-intelligent raccoons. To run an adventure, all the Game Master has to do is take a Trouble and point it at a Problem. As the Trouble makes the Problem worse, the kitties have to fly into action! (Often literally.)
Magical Kitties can be an opportunity for people who have never played a roleplaying game before to discover a whole new hobby. To that end, Magical Kitties includes a lot of tools for new players: There'll be a solo play scenario, for example, so that within literally moments of cracking open the box you can start playing the game for the first time. And there'll be a My First Adventure book for first-time GMs, taking them step-by-step through running their first scenario.
Magical Kitties are for everybody! To learn more about the game, be sure to check out the campaign on Kickstarter and help spread the word.
---
Categories
Kickstarter
Magical Kitties Save the Day