---
Saving the planet one box at a time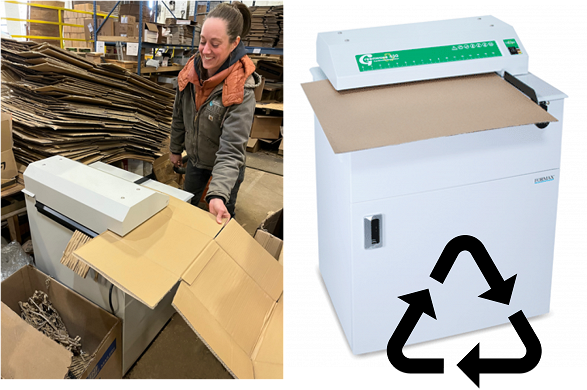 Formax interviewed our warehouse manager, Woody Eblom, about our new Greenwave 430 Cardboard Perforator. The picture above shows Jackie Lozano turning unusable boxes into perforated cardboard to be used for packaging.

Woody told Formax that prior to using the Greenwave, we were purchasing starch-based packing peanuts, which were expensive, and shipped in plastic bags. The Greenwave not only saves money in multiple ways but is good for the environment!

Atlas Games believes that being environmentally conscious is the sensible, cost-effective thing for a business to do. We're committed to environmental responsibility, and implement green policies that save money, reduce our carbon footprint, and encourage others to follow suit.

We're a signatory to the "We Are Still In" declaration that opposes the US withdrawal from the Paris Agreement.
We reduce our waste production by designing our games with as little disposable packaging as possible.

We re-use boxes, packing material, and pallets in our warehouse, and we don't ever buy styrofoam packing peanuts. In our offices, we use both sides of each sheet of paper.

We recycle our used office paper, along with everything else that's recyclable. We buy recycled toner cartridges, and dispose of obsolete electronics responsibly so they don't end up in a landfill.
To be energy conscious, we replaced incandescent bulbs with energy-efficient ones in our offices and warehouse. We turn off the lights when we're not using them, and we installed smart thermostats that turn down the office heat at night. We also allow some amount of telecommuting for most employees, which reduces fuel consumption.

We ask that employees not buy beef on the company tab. (Yep, this is a weird one, but this article in The Atlantic explains.)
---
Categories
Headlines
Recycling