---
New Gamemaster's Month Sale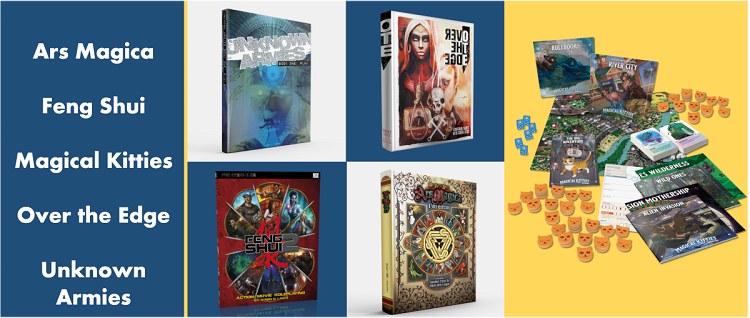 January is New Gamemaster's Month. So, if you've been thinking of getting your start as a GM, now's your chance!

CLICK TO BUY YOUR FAVORITE PHYSICAL RPG BOOK

Buy any one (or more) of our physical core roleplaying games and save 20% through Jan 31st!

Ars Magica Fifth Edition Softcover

Feng Shui 2
Magical Kitties Deluxe Edition
Over the Edge Third Edition
Unknown Armies Book One: Play
GET YOUR CORE RPG DIGITAL BUNDLE NOW!

Save big on a bundle of all four of our extremely popular digital core roleplaying books, at 50% off through Jan 31st:
Ars Magica Fifth Edition
Feng Shui 2
Over the Edge Third Edition
Unknown Armies Book One: Play
---
Categories
Headlines
New GM Month