---
InFUNity Tiles Funded … Thank You!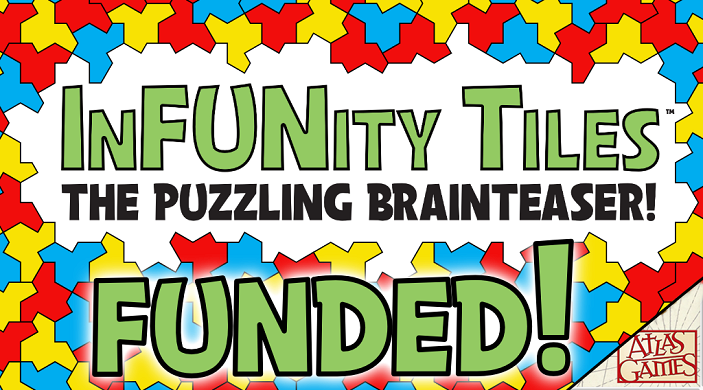 Thank you for your support!
We just wrapped up our Kickstarter for InFUNity Tiles. You helped us reach our goal by contributing a whopping $15,257! Our heartfelt thanks to everyone who supported the project! Plus special thanks to Marisa Ostendorf at Edgeley Public Library, and Tim McNulty at Updog LLC for their last-minute bulk-tier boosts!

This was incredibly new terrain for us here at Atlas Games! There were times during the campaign that we weren't sure we'd fund at all, but today we're admiring our wonderful fan community and its efforts to support us and our endeavors big and small. It's truly because of YOU that we're able to create this amazing new project!

What's next for us …
The next step is to use the Kickstarter funds toward their intended purpose, getting our MUD frame mold created and sent to our friends at Updog LLC. From there, they'll start producing InFUNity Tiles in their thousands!

The MUD frame will do so much more than manufacture InFUNity Tiles, too. With this mold, we can do all kinds of industrial-level injection molding to recycle even more plastic otherwise destined for the landfill, turning it into usable game accessories like dice, game bits, and so much more … it's an amazing new horizon for us that you've made possible!
And, as a game publisher, we always have more fun up our sleeve …
Enigma Kickstarter in Jan
At the end of January we'll be launching a Kickstarter for our new Enigma line! We'll be producing three different solo puzzle gamebooks, each a bit different, that all come with their own sense of adventure. You can find more information and sign up for a launch reminder here!

50% Off Black Friday Sale
Plus, on Friday, November 24th we'll be running our 50% off Black Friday Sale! FOR TWO HOURS ONLY, from 5 to 7pm CST, both physical and digital products are all up for grabs (excluding our newest releases). The discount will be automatically applied in your cart, so fill it up in advance then set yourself an alarm for the start of the sale. Start making your wish list here!

Thanks Again!
This project wouldn't have been possible without your support. Thanks to each and every one of you who shared, liked, and backed InFUNity Tilesy
---
Categories
Deals & Specials
Kickstarter
Recycling