Recess! at a Glance
A strategy board game game for three to five players.
Start fights, tattle to the nuns, and steal kisses on the playground during recess.
Fast-paced, timed rounds keep the game moving and the action high — just like at recess!
What Happens on the Playground Stays on the Playground: The World of Recess!
Anyone who's been to school knows how recess goes. Amidst the playground equipment, fights are won and lost. Troublemakers unlucky enough to get caught are sent inside for a time out. And if they're lucky, kids might just get a chance to steal a kiss from their sweetheart.
This is the world of Recess!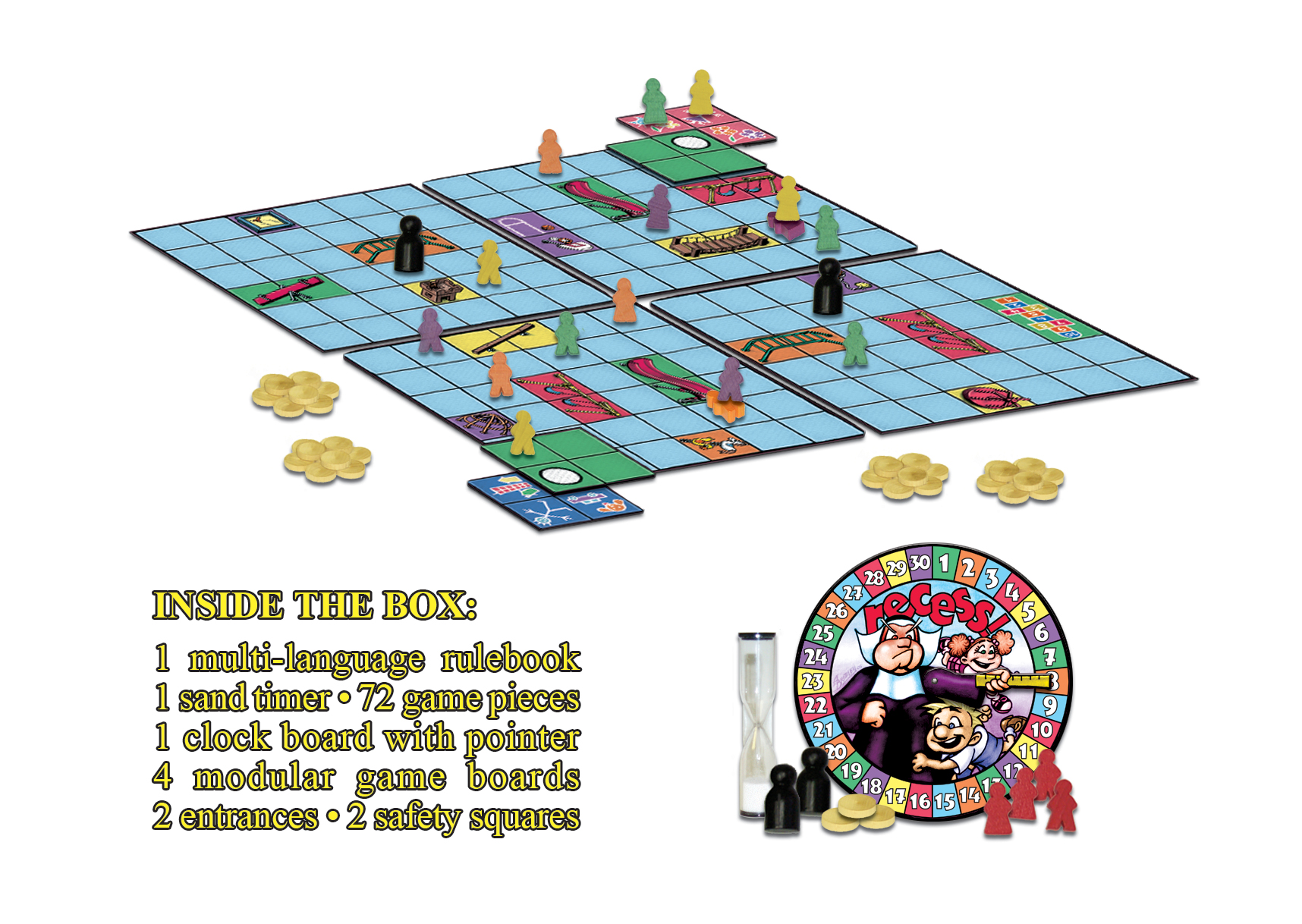 Press Your Luck: Gameplay Basics
In Recess!, each player controls two boy and two girl figures. Their goal? To win coins by landing on spaces occupied by other players and starting a fight. But beware the nuns, who send fighting children off the board for a time out.
During your turn, players can move three of their figures and one nun figure.
This game is played in thirty one-minute rounds. Or land your boy and girl figures on the same space out of sight of the nuns to steal a kiss and end the game early.
Who will extort the most money from the other kids and come out as the undisputed ruler of the playground? Find out in Recess!

Download the web banner for your own site!
Vital Stats
| | |
| --- | --- |
| Designer: | Morgan Dontanville |
| Editor: | Michelle Nephew |
| Art: | Alexander Bradley |
| MSRP: | $24.95 |
| Atlas Stock #: | AG1290 |
| Barcode: | 1-58978-085-X |
| Format: | Multi-language rulebook (English, French, German, Spanish), circular clock board with pointer, sand timer, four modular game boards (6" x 6" each), two L-shaped entrances (2" x 2" each), two safety squares (2" x 2" each), 72 game pieces (20 boy and girl figures, 2 nun pawns, and 50 coin tokens) |
| Number of Players: | 3-5 |
| Ages: | 8+ |
| Play Time: | 10-30 minutes |
| Release Date: | March 2006 |