Ren Faire at a Glance
Outfit your character in Renaissance wear by performing for the crowd!
Act out your performances in this boisterous game that feels like a day at the Faire.
A set collection card game for two to four players, featuring transparent costume cards.
Lords and Ladies: The World of Ren Faire
Most first-time Renaissance Faire goers know the awkward feeling of showing up without costume, character, or any idea of what's going on. In Ren Faire, you play characters who want to fit in at the Faire but lack the funds to do it.
The characters hatch a clever plan — the Faire is full of performers, so why not join them and make enough cash to buy costumes?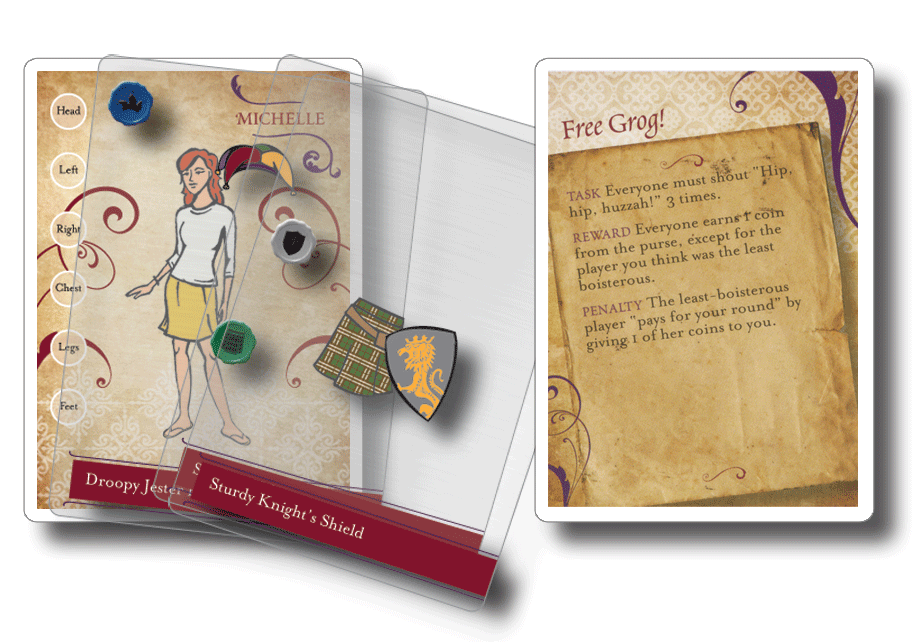 Imaginary Swordfights Galore: Gameplay Basics
In Ren Faire, players earn coins by completing challenges at a Renaissance Faire, like impromptu swordfights, Royal High Teas, or loudly complaining members of the anachronism police.
Each player can use these coins to buy costume items from the Shoppe window. Buy matching pieces to increase the number of challenges held in your hand. Place costume pieces on other players to turn their carefully planned costumes into a hodgepodge.
Ren Faire features stackable transparent costume cards that allow you to see your character's outfit (and your points too).
Be the first one to build a complete costume and win the game! Huzzah!
Awards
2010 Origins Award Nominee – Children's, Family, or Party Game category.
2009 OgreCave's Christmas Gift Guide.
Vital Stats
| | |
| --- | --- |
| Designer: | Michelle Nephew with Wendy Wyman |
| Art, Graphic Design, & Layout: | christiansen:creative, Hudson, WI |
| MSRP: | $24.95 |
| Atlas Stock #: | AG1320 |
| Barcode: | 978-1-58978-109-2 |
| Format: | One transparent 55-card deck, one opaque 55-card deck, and a rules sheet in a tuckbox |
| Number of Players: | 2–4 |
| Ages: | 13+ |
| Play Time: | 1 hour |
| Release Date: | December 2009 |