Coming Soon!
Expected Release August 2020
Magical Kitties at a Glance
An all-ages roleplaying game of cute, fierce, cunning kitties. Use your magical powers to solve problems and save humans from terrible troubles!
What's in the Box?
The Deluxe Edition of Magical Kitties Save the Day is packed full of high-quality component upgrades (wooden tokens, custom dice) and a bunch of bonus content, including the Magical Power, Talent, and Flaw Cards.
Game box with shiny spot UV and a foil box sleeve
Velvety flocked interior tray
Magical Kitties Save the Day Rulebook
Magical Kitties & The Big Adventure (solo adventure)
Magical Kitties & The River City Adventures (hometown)
Magical Kitties & The Alien Invasion (hometown)
Magical Kitties & The Wild Ones (hometown)
River City poster map
Alien Invasion poster map
The Wild Ones poster map
6 large custom kitty-paw dice
48 wooden kitty treats
Pad of 50 full color pre-printed character sheets
36 full-color Magical Power cards
36 full-color Talent cards
36 full-color Flaw cards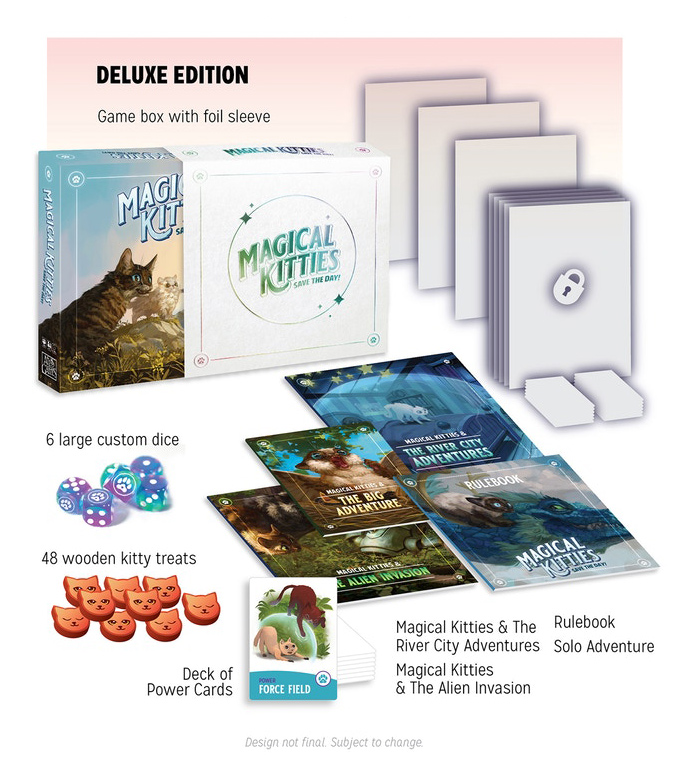 Vital Stats
| | |
| --- | --- |
| Designer: | Matthew J. Hanson |
| Producter: | Justin Alexander |
| Artists: | Anthony Cournoyer, Ekaterina Kazartseva, Kat Baumann, Jason Bradley Thompson |
| MSRP: | $50.00 |
| Atlas Stock #: | AG3111 |
| Format: | RPG boxed set |
| Number of Players: | 2-6 |
| Ages: | All Ages |
| Play Time: | 1-2 hours |
| Release Date: | August 2020 |