Mouse Cheese Cat Cucumber at a Glance
The World of Mouse Cheese Cat Cucumber
Each character has a hidden agenda: the Mouse wants the Cheese, the Cat wants the Mouse, the Cheese wants everyone to get along (they're neutral, they're Swiss), and the Cucumber wants everyone to lose.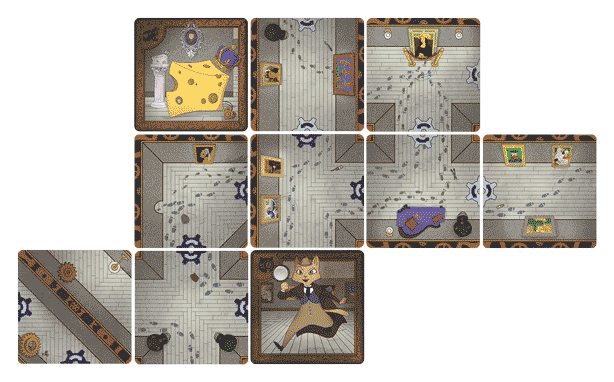 Gameplay Basics
On your turn, pick a room to add to the clockwork maze. Rooms will rotate. Characters will move. This thinky puzzler will challenge even the most villainous gamer.
Assemble the Maze Cards like a puzzle to unlock the hidden mysteries and characters' motivations.
Variant Covers
Three covers, same game. Enjoy Mouse Cheese Cat Cucumber with one of three variant covers.
Vital Stats
| | |
| --- | --- |
| Designers: | Seppy Yoon, Peter Yang, Patrick Yang |
| Artist: | Mark Eberhardt |
| MSRP: | $13.95 |
| Atlas Stock #: | FB060 |
| Format: | Card Game |
| Number of Players: | 1-4 Players |
| Ages: | 14+ |
| Play Time: | 13 Minutes |
| Release Date: | End of 2021 |