Explosive Cinematic Action, Delivered!

DIGITAL SUBSCRIBERS get early access to the PDFs of new releases at 10% off their MSRP (plus tax).

PHYSICAL SUBSCRIBERS get the early-access PDFs for FREE and 10% off each book's MSRP (plus actual shipping/tax).

Pay only when a book has gone to press, and get advance notification of it with an opt-in. Cancel your subscription at any time.
Here's How it Works …
Whether you're an old fan or new to Feng Shui's explosive cinematic action, this is your chance to get your adrenaline fix delivered to your door. Electrifying adventures, startling pop-up junctions, all-new setting supplements, blockbuster campaigns, and more are in our production lineup. By subscribing today, you'll become a Feng Shui Dragon … you'll be joining the team that makes these books possible!

Pay Nothing Now!
When you sign up, we won't charge you anything until we're ready to deliver our NEXT Feng Shui book's PDF. Missed something you wanted? Sign up now, then go to our Feng Shui webpage to order it today and you'll get it right away!
Exclusive Behind-the-Scenes Updates
Between new releases we'll send you periodic email updates with behind-the-scenes glimpses into the development process for our Feng Shui books. They'll include samples of new art, excerpts from unpublished books, and more.
Early-Access PDF
When the files go to our printer, we'll offer you the PDF of the new release well in advance of the public release date. You can choose then whether you want just the PDF, the PDF + physical book, or neither. You'll get your Dragons discount for both and download the PDF immediately! You're only charged if you decide to buy the book, and you can unsubscribe at any time.

Convenient Delivery
When the new book is ready, usually just a couple months after it goes to press, we'll ship it to your door. That's right, you'll get to preorder new material for the game you love at a discount!
Free PDFs & Discounted Books
Every physical subscriber gets the early-access digital copy of the newest book for FREE, and 10% off that physical book. Digital-only subscribers get 10% off the early-access PDF, but pass on the physical copy.
Support the Game You Love
By subscribing, you help us create more action-packed, top-quality content for Feng Shui 2!

"In the summer of 1996, I bought a copy of the Feng Shui RPG at my local game store and a copy of Jackie Chan's Police Story at my local video
store. It was like injecting jet fuel straight into my veins. I'd never look at films or roleplaying games the same way again. And I've never been able to get enough since."

– Justin Alexander
RPG Producer, Atlas Games

Here's What's in Store for 2021 …
Thanks to the support of our Dragon subscribers, these books are in development NOW!

Burning Dragon (DELIVERED Early Summer 2021)
Thousands have gathered in Mongolia for the Burning Dragon festival … but this year it's been taken over by ancient sorcerers and Triad gangsters! Race across the Gobi Desert in an all-out brawl to gain control of chi across the ages! Jonathan Killstring invites you to the wildest party in this — or any other! — junction in this pulse-pounding adventure! UPGRADED to a 48-page full-color softcover, still at the original price of $15.95 MSRP for subscribers, PDF at $7.95 MSRP, minus your 10%

Apeworld on Fire! (DELIVERED Late Summer 2021)
A fast and furious car chase through the Netherworld leaves our heroes stranded in the wastelands of the apocalypse! The ecosystem is shattered, oily purple clouds choke the sky, and your neighbors will probably kill you for water, fuel, or fun. But don't worry, it can always get worse! Just over the horizon there's a city of cybernetic apes and their psycho-phantic mutant freaks! Feng Shui veteran Paul Stefko returns to the game, revealing all-new details of the bleak Future junction. Anticipated to be a 32-page full-color softcover at $15.95 MSRP, PDF at $7.95 MSRP, minus your 10%

We'll Temporarily Have Paris (Late 2021)
A new pop-up juncture has appeared in the Netherworld. Portals have opened to Paris in May 1944. Your J-meter readings suggest the juncture will be open for a whole week and that the weather in the beautiful, historic city will be wonderful and sunny. The only downside? It's full of Nazis. Paul Dean, co-creator of "Shut Up, Sit Down," is giving us the fantastic opportunity to punch them in the face! Anticipated to be a 32-page full-color softcover at $15.95 MSRP, PDF at $7.95 MSRP, minus your 10%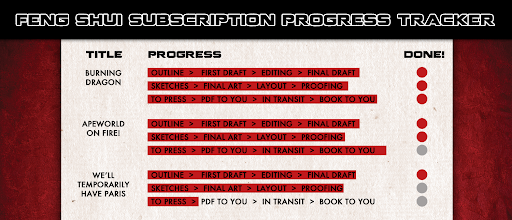 "The more subscribers who support Feng Shui, the bigger our dreams can become. We want to do heftier books in the future with more art, VTT support, and more! But we need your help … subscribe now!"

– Michelle Nephew
Atlas Games Co-owner
Your Subscription Makes a Difference!
Help us make regular Feng Shui 2 support a long-term reality … sign up today!
As a Feng Shui Dragon, you'll be making these books — and many more! — possible. Your subscription is essential because it lets an independent publisher like Atlas Games make long-term plans. After all, it takes a long time to develop, playtest, and print an RPG supplement. There's also a lot of risk. Even if we can justify greenlighting a new book in the first place, the simple reality is that we then have to wait at least 10-14 months to see if the book was a success before we can feel certain greenlighting the next one.
But as a Dragon, your subscription gives us surety. You're declaring that an audience for Feng Shui books exists, so we won't have to wait to see if one book is a success before we start developing the next one.
We can put all of these books into development at the same time and begin planning for an even more ambitious slate of books in 2022!
Get Your New Favorite Adventures, Delivered!
Sign up now to get YOUR Feng Shui 2 releases first!