Mad Scientist University at a Glance
A zany sci-fi party game for three to seven players.
Hatch diabolical plans and pitch them to your Teaching Assistant in your mad scientist class.
A madcap, nefarious twist on party games like Apples to Apples.
Evil Geniuses in Training: The World of Mad Scientist University
Every mad scientist has to start somewhere, and many of them come through the hallowed halls of Mad Scientist University. Here, they learn essential skills like dry hand washing, maniacal laughter, and how to take over the world with an army of lawn gnomes.
In your introductory class, the Teaching Assistant asks the students to pitch their wildest ideas to complete an Insane Assignment like winning the presidential election or traveling to the center of the earth using Unstable Elements like marshmallows or squirrels.
Can you make a case for your explosive marshmallows or ninja attack squirrels? Find out in Mad Scientist University!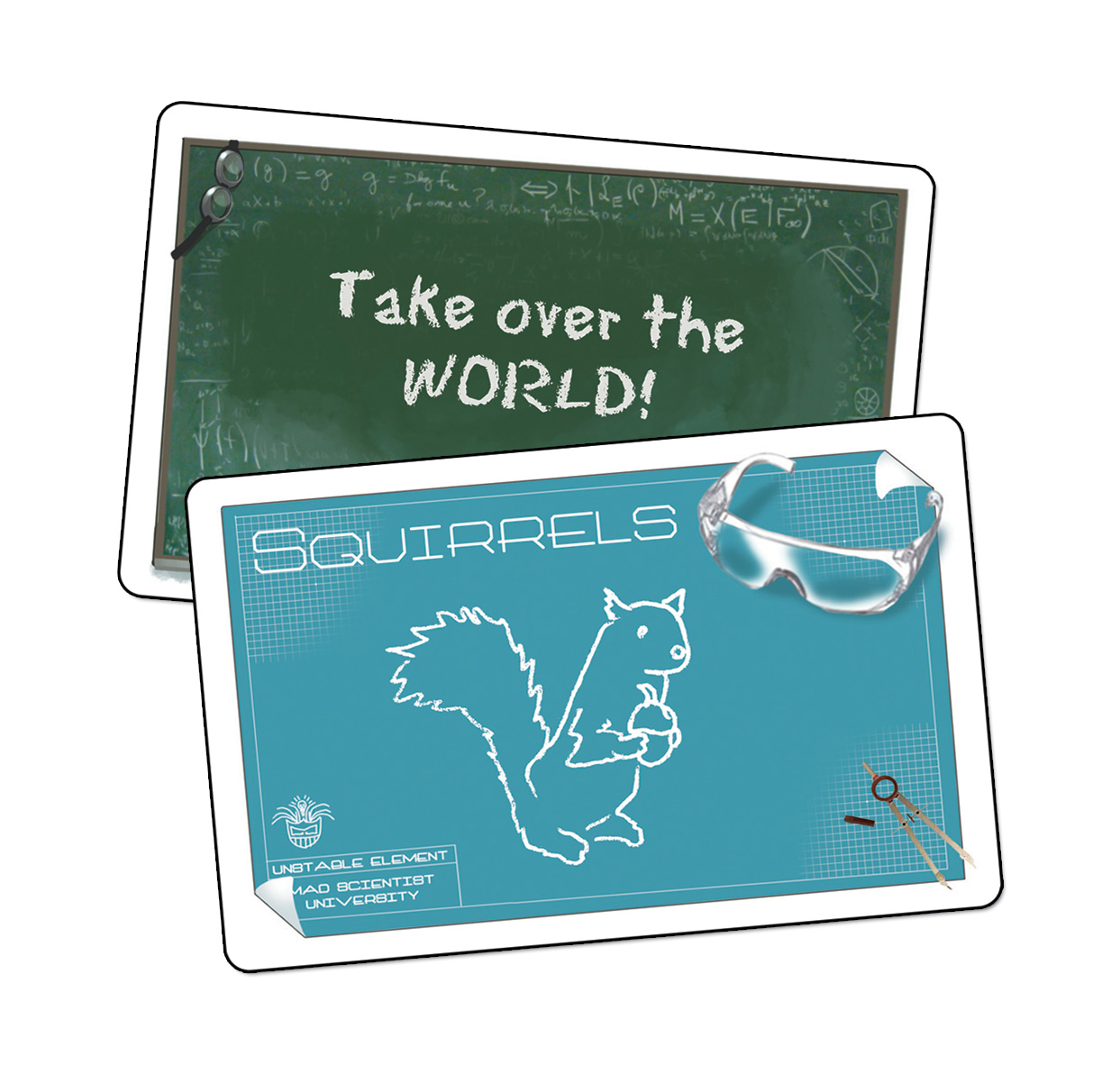 Weird Science: Gameplay Basics
Mad Scientist University is a party game in which players take turns being the judge (or in this case, the TA). The TA deals a single Unstable Element to each player and then presents the group with their Insane Assignment.
Players have fifteen seconds to come up with an evil plot to use their element and reach the goal. Each player takes a turn presenting their plan, and the TA picks their favorite and awards them the Insane Assignment card.
Play proceeds until each player has been the TA three times. The player with the most Insane Assignment cards wins!
Add variety to your game with the Spring Break expansion, which includes 56 new cards, plus Gimmicks that temporarily change the rules of the game!
Awards
2009 GAMES Magazine's Games 100 List – Best Party Game Nominee.

Vital Stats
| | |
| --- | --- |
| Designer: | Zachary Anderson |
| Art: | Steven Sanders |
| Editor: | Michelle Nephew |
| MSRP: | $24.95 (core game), $12.95 (Spring Break expansion) |
| Atlas Stock #: | AG1310 (core game), AG1311 (Spring Break expansion) |
| Barcode: | 1-58978-099-X (core game), 1-58978-108-2 (Spring Break expansion) |
| Format: | 168 full-color cards (core game), 56 cards in a tuckbox (Spring Break expansion) |
| Number of Players: | 3–7 |
| Ages: | 8+ |
| Play Time: | 30–60 minutes |
| Release Date: | December 2007 (core game), May 2010 (Spring Break expansion) |