Witches of the Revolution at a Glance
A cooperative deck-building game for one to four players.
Play secret cabals of witches working to free America from the tyranny of King George III.
Players race to complete objectives against two distinct timers: the Moon Track and the Liberty Track.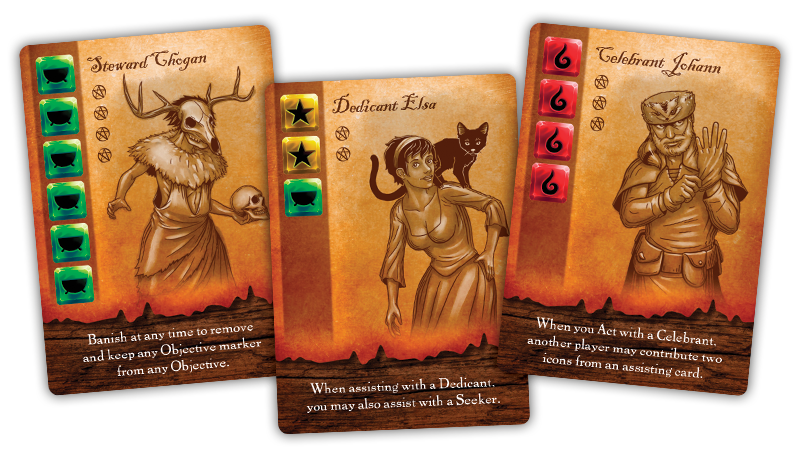 A Few Brave Covens: The World of Witches of the Revolution
History books tell only half the story. We know many heroes of the Revolution: George Washington, Paul Revere, Alexander Hamilton.
But they were not the only ones to stand up and demand freedom. Secret cabals of witches also answered the call, fighting for liberty and standing against tyranny.
Step into their shoes in Witches of the Revolution.
United We Stand: Gameplay Basics
Witches of the Revolution is a cooperative deck-building game. Recruit powerful witches to add to your coven — and your deck. Locate relics to use against your enemies. Seek blessings to turn the tide in your favor.
Work together to reach your objectives before the moon wanes or tyranny takes hold. Together, you will imbue the Liberty Bell with power, cure Paul Revere of lycanthropy, and more.
Face waves of Event cards and collectively defeat demons and witch-hunters to reach your goals. Plan and fight as a team to complete enough objectives to win the game and free the land from tyranny.

Awards
Vital Stats
| | |
| --- | --- |
| Designer: | M. Craig Stockwell |
| Illustration: | James Mosingo and Alan Washburn |
| Graphic Design: | Nicolas Gluesenkamp |
| Producer: | Jeff Tidball |
| MSRP: | $39.95 |
| Atlas Stock #: | AG1390 |
| Barcode: | 978-1-58978-179-5 |
| Format: | 112 poker-sized cards, 80 mini cards, 34 tokens, quad-fold game board |
| Number of Players: | 1–4 |
| Ages: | 13+ |
| Play Time: | 30–60 minutes |
| Release Date: | September 2017 |