Rescuing Robin Hood at a Glance
A light-hearted deck-building game for the whole family, with unique press-your-luck attacks that encourage collaboration.

Rich theme that's engaging for both adults and children, including backstories for all 89 characters.

Build a Merry Band of villagers ready to defeat the Sheriff of Nottingham using their Wit, Stealth, Brawn, and Jolliness.

Gameplay includes mental math, elementary statistics, and is packed full of history, great puns, and fun strategies to discover.
The World of Rescuing Robin Hood
Dozens of villagers have been arrested by the Sheriff of Nottingham. They look to Robin Hood to save them, but there's just one problem … the Sheriff has captured Robin Hood!
But there is hope. It's time to strategize together and press your luck to rescue villagers. As your band grows, prepare to storm the castle and rescue Robin Hood!
All players cooperate together in this exciting family deck-building game.
Gameplay Basics
Contents
212 Poker Cards
15 Large Cards
33 Tokens
48 Wooden Cubes
1 Rulebook
1 Character Booklet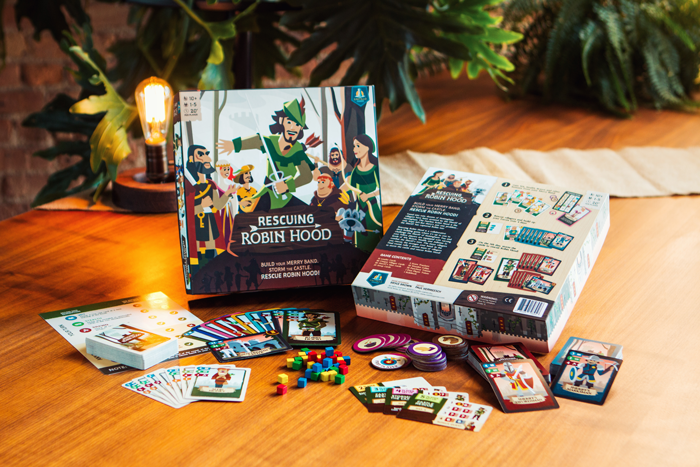 Vital Stats
| | |
| --- | --- |
| Publisher: | Castillo Games (distributed by Atlas Games by special arrangement) |
| Designer: | Bryce Brown |
| Artist: | Paul Vermeesch |
| MSRP: | $44.99 |
| Atlas Stock #: | CLG01000 |
| Barcode: | 1-95893-16341-0 |
| Format: | Boxed game including cards, tokens, cubes, rulebook, and character booklet. |
| Number of Players: | 1-5 Players |
| Ages: | 10+ Years |
| Play Time: | 20 Minutes |
| Release Date: | 2021 |