Once Upon a Time Games at a Glance
A series of family-friendly card games with gorgeous fairytale-style art throughout.
Players tell their own fairy tale using elements on their cards.
Themes can be all-ages friendly or more mature, depending on the players at the table.
Today on Tabletop, [we] will find out what happens when a fairy tale is created in these modern times.
– Wil Wheaton, Tabletop

Who's Trip-trapping Across My Bridge? The World of Once Upon a Time
Step into the world of fairy tales in Once Upon a Time. It's full of wicked queens, talking cauldrons, and lucky boys who happen to stumble upon magic objects. But unlike traditional fairy tales, you control the action.
Tell the story using elements from your cards and try to steer the conclusion toward your hidden ending. But beware — other players can take over if you mention something on one of their cards, or if you get stuck and are unable to go on.
The result? A fairy tale that could be funny, tragic, fantastical, or all three in turns. A distinctive play experience where the members of the table work together to tell a story all their own. A unique tale that happens once upon a time…
Beautiful Damsels and Fantastical Sights: The Look of Once Upon a Time
Once Upon a Time may be a card game, but the artwork feels like it's been plucked out of a classic fairy tale book. Long-haired maidens, grizzled trolls, and dancing teapots are depicted in detailed watercolors to help inspire your most creative stories.
The game features artwork by Omar Rayyan, known for his work on Magic: The Gathering and numerous children's books.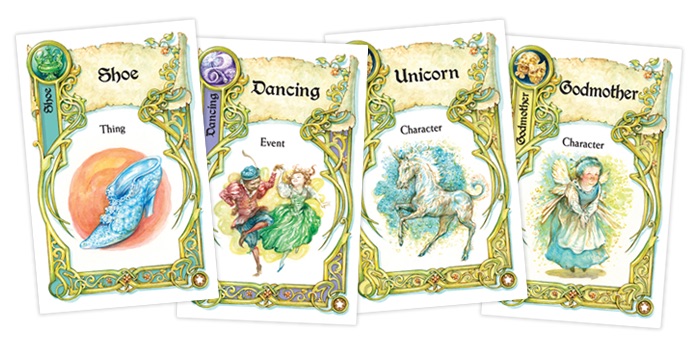 Awards
2013 Origins Award nominee for Children's, Family, or Party Game.
2013 Featured on TableTop with Wil Wheaton.

2013 Recommended Parents' Choice Award.
2013 Tillywig Best Family Fun Award.
2013 Cover art featured in Spectrum 20.
2007 Hobby Games: The 100 Best.

1999 Pyramid Magazine's The Millenium's Best Card Games list.

1999 Pyramid Magazine's The Millenium's Most Underrated Games list.
1997 GAMES Magazine's Games 100 List – Best Family Card Game Section.