Over the Edge at a Glance
A fantastic cornucopia of fringe science, conspiracy, and hyper-reality. The island of Al Amarja is a rich sandbox to be filled with your craziest and most entertaining ideas.
Everything old is new again: New narrative rules improve storytelling. New character traits propel drama. Every conspiracy, character, and location is given a fresh twist.
Designed by Jonathan Tweet, lead designer of Dungeons & Dragons 3rd Edition, Ars Magica, Everway, and 13th Age.
Welcome to the Ultimate Democratic Republic of Al Amarja
During your stay with us, please remember that Liberty is Job One, Disarmament Means Peace, It's Polite to Speak English, and, of course, Paranormal Activity is perfectly legal.
Thank you for your consent.
The Edge is the weirdest city in the world. Get into trouble. Question your place in the crazed multiverse. Transcend mortal limits. Join a cult. Fight a baboon. Along the way, you might find out who really controls humanity. Unless, of course, you've been working for Them all along.
Over the Edge is the classic RPG of counter-culture conspiracy, weird science, and urban danger. For its third edition, the game comes roaring back in a completely reimagined relaunch by its original creator. Everything old gets a new take. Nothing is a retread. Every conspiracy, every neighborhood, every major gamemaster-character is portrayed with a new spin. It's not "25 years later." Everything on the Island is reborn to surprise new and existing players alike.

This is a war universe. War all the time. That is its nature. There may be other universes based on all sorts of other principles, but ours seems to be based on war and games. All games are basically hostile.
— William S. Burroughs, Taped Conversation, Published 1991
At the heart of Over the Edge third edition are the nine districts of the Edge, each with a unique flavor, colorful characters, memorable locales, and a mélange of bizarrity ruled over by a patchwork of cabals openly tolerated or empowered by the all-powerful anarchic State. Behind this public face of the city, however, there is a secret world of conspiratorial factions, strange fringe abilities, cutting-edge technology, and cross-reality incursions.
The result is a crazed sandbox setting which is infinitely receptive to whatever offbeat and outlandish ideas the players and gamemaster choose to pour into it. Over the Edge adds a final dash of madness with the "GM's Secret Bag of Tricks," a dozen fringe concepts and a gaggle of colorful characters, each of which can completely transform your version of the Edge or serve as the nucleus around which your entire campaign will form.
Why do you laugh? Change only the name and this story is about you.
— Horatius, Conversations, 30 BCE
Take the Leap: Gameplay Basics
Fast, dramatic character creation that's laser-focused on creating dynamic, active characters. Player-defined traits quickly establish what characters can do, and each PC's Trouble & Question force characters into personal crucibles that drive story.
A simple 2d6 resolution mechanic uses a lightning-fast comparison of level and difficulty to generate rerolls instead of managing modifiers through addition and subtraction.
Inject shocking, unexpected outcomes into the narrative through good twists, bad twists, and "twist ties."
Three strikes and you're dead. But unless you're in danger of your third strike, you can safely take big risks, electrifying gameplay with dramatic, exciting moments.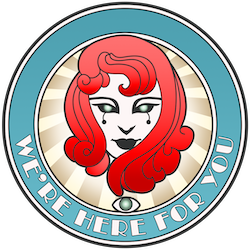 Awards
1997 Out of the Box Award Winner – Best Retread, Over the Edge 2nd Edition.