Dice Miner at a Glance
Choose your hero, push your luck, and build colossal dice combos.
A one-of-a-kind of dice drafting game featuring 60 custom dice and a unique three-dimensional mountain.
Includes a compelling solo mode in the best tradition of solitaire gameplay.

Dwarf Domains: What is Dice Miner?
The Dwarves once lived beneath three mighty mountains. After centuries of war they defeated their age-old enemies the Dragons. Moving to the surface, the Dwarves built magnificent cities and won renown for their heartening beer.
But now, the Dragons have returned. The Dwarves must remember their roots, clear old tunnels, and return to ancient caverns while fighting their primeval foes.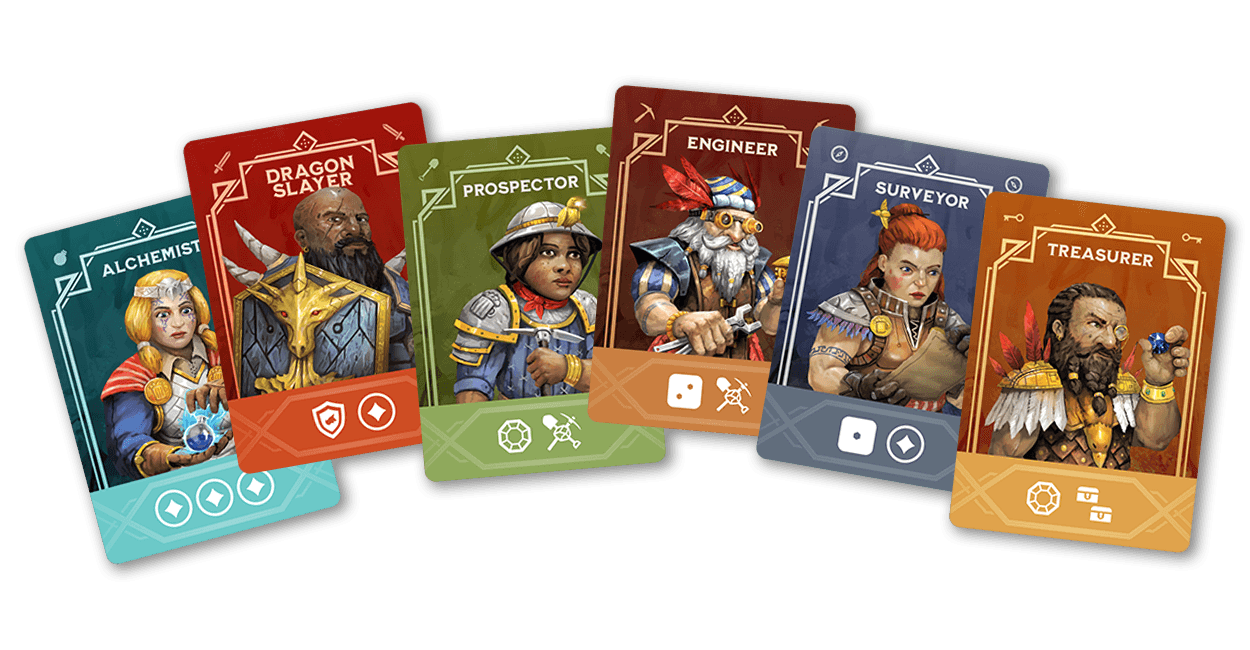 Draft Dice from a Magnificent Mountain: Gameplay Basics

In Dice Miner, a sloped mountain board is filled with dice. Players take turns choosing dice from it. Each time the mountain is emptied, players score based on the faces showing on their dice.
Five types of dice help or imperil the Dwarves in different ways.
Tunnel dice show pips that must be collected in straights to score.
Treasure dice show gems worth points. But the player with the most doubles that total.
Hazard dice depict cave-ins and dragons that threaten negative points.
Tool dice can turn hazards to the Dwarves' advantage, making perils positive or locking in great rolls for future use.
Magic dice provide re-rolls prior to scoring, which you can use to save your skin…or push your luck.
In addition to each die type's unique function, every die in Dice Miner has one Beer face. Sharing Beer gives players extra picks that provide even more options.
To play a full game the mountain is filled, mined, and scored three times. In each round, players keep the dice they chose in previous rounds, so each player's trove grows over the course of the game, and their scoring potential increases.
After three mountains have been mined, the player with the most points wins!
Additional Items
These optional, additional products are available for Dice Miner. Stock of these products is extremely limited.